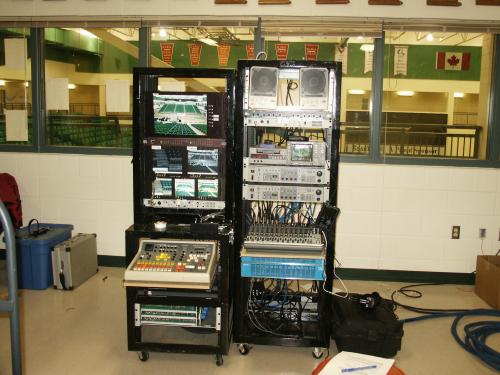 Sasktel has launched a new service on their Max "cable" TV service — Local on Demand. Basically, this is a community channel, but rather than have scheduled programming, it is set up as an on-demand service, meaning you can watch what you want, when you want. So, what does this have to do with me?
I have been hired as one of two Technical Producers. My responsibility is to deliver and co-ordinate the setup and operation of a two-camera mobile tv production rig. We record the local event to a hard drive recorder. The show is then edited in a post-production facility, compressed to the proper MPEG format for On Demand, and uploaded to Sasktel's server. So far we have done several CIS sports events including Hockey, Basketball, and Volleyball in Saskatoon and Regina.
Yup. There's a few wires to hook up!